By connecting this adapter to your USB type B cable, your PC can communicate with the LX200 through its RS232 connector. It is wired specifically for the Meade LX200 RS-232 pinout. Any standard USB cable with a type B Male connector can be used (not included). The device includes an FTDI USB adapter, which most PCs already have drivers installed for, and an RS232 inverting transceiver to match the LX200's logic levels. We include a modular cable of the following lengths, pricing below: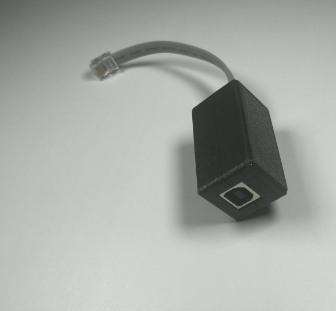 * US or International Shipping and any applicable sales tax will be added to your order.
Benefits
Already wired for the Meade LX200 RS-232 port pinout (incl. LX200 GPS).

Includes transmit and receive activity LEDs.

Any good-quality USB cable with male type B connector will work, so you can tailor the cable length to your setup.

Each adapter is integration tested, on an LX200 Classic, prior to shipment.
See more feedback from our customers...
Additional Information
There are two RS232 ports wired into the LX200 connector, our adapter uses the PC DATA pins, not the MISC. SERIAL pins, as named in the LX200 Classic manual. Your Windows, Mac, or Ubuntu Linux PC should recognize the serial port using its built-in drivers, but if needed drivers for Mac and Windows PCs are available on the website: https://ftdichip.com/drivers/vcp-drivers/
Software should use the following communications settings:
9600 Baud
8 Data Bits
1 Stop Bit
No Parity